16th February 2012
WP7 vs iPhone
Ok so if you follow me on twitter you may know that towards the end of last year I took part in 'Alphalabs'. Organised by onedotzero this was a competition aimed at encouraging developers and artists to work together on the Lumia 800 platform.
While not taking part in the eventual competition I was part of an initialteam creating projects for the launch of the event. This meant an intensive two week project (which, in our case, used Silverlight and XNA 3D).
I'll write something up about that later. However a side effect of this was that I was able to get hold of a Lumia 800 very early on and for the duration of the project I was using the Lumia as my main device.
What that sentence also tells you is that I'm no longer using it as my main device. So why is that? I'm a .NET developer after all. Doesn't that make me a windows fan boy? well... no...
Using the thing
The physical phone itself is roughly equivalent in size to the iphone so makes little difference (other than the power button placement on the side of the device - which is actually quite nice). So what does, is the OS and the surrounding ecosystem.
WP7 requires a Windows Live account (OK, so iPhone requires an iTunes/Apple ID). One of the annoying things about this however is that if you want to change it you have to effectively factory reset the device. So you better make damn sure you use the same live account that your xbox uses or else you're in for some fun after setting it all up and realising your mistake (OK I did that.. what of it!). Oh and yes I love having my legacy xbox live related hotmail account syncing to my phone...
The Apps
In addition to normal phone functionality the main apps I use every day on iPhone are:
Twitter
Facebook
Guardian News
All of these apps are available on WP7. In fact they go one step further and integrate into the rest of the phone. With a facebook account added these people appear in your 'people' hub, same with twitter. The only problem is I never really got why I'd want them integrated like that. I'm on a small device undertaking specific tasks I don't really find value in an app that washes over me my entire set of contacts and social interactions across different apps that I probably already segment people in to e.g facebook = friends, twitter = work.
The main reason I quit WP7
It's odd to think that one of the big reasons I quit using WP7 was also one of it's biggest selling points - The Metro interface. At a glance, and if you play with someone elses phone temporarily this is really nice. Not only does it seem new and slick it is also very different - not an iphone clone at all.
The problem comes after you use it for a while and I'll illustrate it with this comparison shot: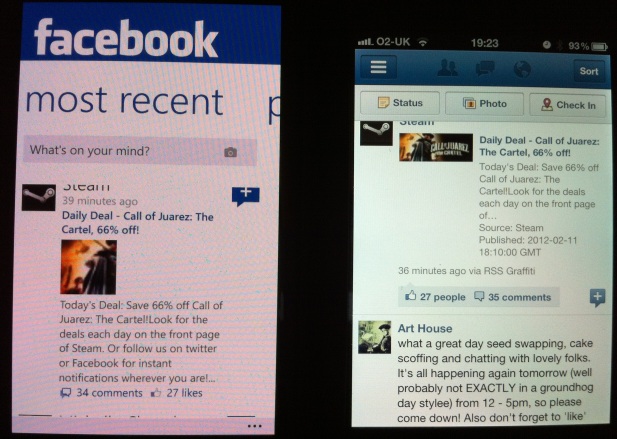 Can you se what the problem might be? yep... it's the stupid waste of space. In the same space that WP7 has told me I'm using facebook and looking at the most recent posts the iPhone app has provided links to the menu, friends, messages, notifications plus action buttons for sorting, adding a new status, photo or checking in. By the time we get to the content area I can see one facebook update compared to two on the iphone.
The facebook app is by no means alone in this. The twitter and guardian apps have similar problems. This isn't because people are being slap dash with their WP7 implementations (at least not just because of that!). This is the design approach WP7 and Metro are pushing for us to use.
Don't get me wrong...
I want the WP7 devices to succeed. Aside from their shortcomings they at least provide a viable and real alternative to iphone with a pre-existing set of .NET and Silverlight developers. But they need to get usability right, now that they've done the whole beauty thing.
An end to end tie up between my WP7 device, Windows machine and Xbox live account is quite enticing... and definitely better than that Game Centre rubbish.
---
Having not made the trip down to Bournemouth for re:develop 1 or 2 it was great to be in attendance for it's third incarnation.…
Making games over a weekend... competitively... and we chose a dead technology... why the hell not!…
Hack Days are awesome. How could they not be? you get to make stuff with like minded people with no bosses, no client deadlines, no point but the love of it. …
It's been a while since I posted. I'd like to say that's because a lot's been going on. In reality I got lazy and now I just happen to have something to write about that can make it sound like a lot has been going on.…