13th February 2010
Boagworld 200th
It was my pleasure to take part in the 200th Boagworld (bw200) yesterday. A marathon session that started with Bob, Paul and I waiting outside the locked barn keyless and cold until Dave, Stanton and Ryan came to the rescue...
In my mind the day was like a free one day, online conference with a brilliant lineup all sharing their time for free. There wasn't too rigid a schedule with guests in and out all the time either via skype or in person. However there was a general plan of 30minute sessions (expertly co-ordinated and organised by Ryan Taylor).
Each session was recorded and as far as I'm aware will be released by Marcus and Paul over the coming weeks.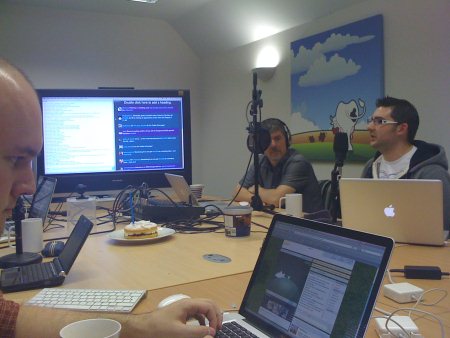 Highlights for me included a relaxed, and seemingly extremely well read (if his bookshelf was anything to go by) Andy Clarke getting into a heated debate with Paul regarding browser support / progressive enhancement and some excellent food for thought from Drew Mclellan and Rachel Andrew in regard to e-commerce projects.
The only real lowlight was some rather unnecessary behaviour in the backchannel. Other than that it's a shame each guest was only on for 30minutues as there was some excellent content that could have taken up entire shows in their own right.
Thanks to the rotating host system I got to co-host a chat with Drew and Rachel on The Joel Test and to speak with Christian Heilmann about Yahoo's YQL.
The Joel test is an interesting one that allows teams to take a step back and guage how effectively they are operating. Covering questions on Source Control, bug tracking, scheduling and working conditions.
One of the tests that we didn't have time for was 'Do new candidates write code during their interview?' which for me is something that I've been wrestling with at Headscape (where we do ask for code to be created as part of the application process). Shortly I will be posting an article covering my thoughts on the matter (as encouraged by Emily).
Unfortunately I think there was a misunderstanding regarding the length of Christians session (being only half an hour instead of an hour) however I think it was one of the best sessions for takeaway action. The YQL demos that Christian had prepared showed us just how easily web apps and mashups can be created by standing on the shoulders of Yahoo. Allowing us to get down to the real functionally of our apps rather than worrying about the wiring of individual pieces across differing API boundaries. I urge you to take a look at the YQL Demos that Christian prepared.
All in all, a great day. Thanks to everyone involved (especially Cath for providing food for us all!
Some related bits and bobs
P.S. I'm still not sure Paul noticed the hijack of his about page throughout the day... did you?
---
Having not made the trip down to Bournemouth for re:develop 1 or 2 it was great to be in attendance for it's third incarnation.…
Making games over a weekend... competitively... and we chose a dead technology... why the hell not!…
Hack Days are awesome. How could they not be? you get to make stuff with like minded people with no bosses, no client deadlines, no point but the love of it. …
It's been a while since I posted. I'd like to say that's because a lot's been going on. In reality I got lazy and now I just happen to have something to write about that can make it sound like a lot has been going on.…